Here are the key highlights from today's trading session:
1. Sensex & Nifty close with minor gains while midcap and Nifty Bank end lower
2. 4 of top-5 Nifty losers are financials; except 2, all Nifty Bank constituents in the red
3. Reliance Industries lifts Nifty by 50 points while HDFC twins and ICICI Bank drag by 53 points
4. Sensex gains 100 points to 36,694 and Nifty 35 points to 10,803
5. Nifty Bank slips 309 points to 22,089 and Midcap 36 points to 15,217
6. PSU Bank slips while IT gains the most amongst sectoral indices
7. Reliance Industries surges to record high after Qualcomm deal for Jio Platforms
8. Reliance Industries' market capitalisation at over Rs 12 lakh crore; adds Rs 1 lakh crore in last 16 sessions
9. IT stocks higher ahead of earnings this week; Tech Mahindra up 5.5%, HCL Technologies up 4%
10. Bharti Airtel higher while Vodafone Idea slips after TRAI blocks premium plans
11. Yes Bank falls 14% as investors likely to have sold shares ahead of FPO
12. Market breadth favours declines; advance-decline ratio at 2:3
Closing Bell: Market ends higher led by IT, metal names; HDFC  twins top laggards
Indian benchmark indices, Sensex and Nifty ended the day with gains due to the IT stocks and Reliance Industries. RIL's shares ended 3.23 percent higher to Rs 1,938.70 on the NSE.
At close, Sensex ended 99 points higher to 36,694 while the Nifty50 index ended at 10,803, up 35 points. Broader markets remained flat, with Nifty Midcap ending 0.2 percent lower while the smallcap index ended little changed.
Nifty IT was the best-performing index of the day, ending 1.71 percent higher followed by Nifty Metal and FMCG. Nifty Bank and Nifty Realty indexes ended nearly 1.5 percent lower today.
Tech Mahindra, Hindalco, HCL Technologies, JSW Steel and Reliance Industries were the Nifty50 top gainers while Power Grid, Bajaj Finance, HDFC  Bank, HDFC and ICICI Bank remained the index top losers. 
Fund house head's tip for aspiring 'Robinhoods': Beware of low quality stocks
In an interview to CNBC-TV18, Nilesh Shah of Kotak Mahindra AMC said that first-time investors need to be very cautious while investing low quality stocks.
Shah said that rally in the market over the last few months has been quite broad-based, but the rally in Z group shares–considered as risky because of poor fundamentals as well as compliance issues–has been the sharpest.
He said it was encouraging to see many first time investors sign up for systemic investment plans with mutual funds, and with online brokerages for trading through the internet. At the same time, Shah said that many of them seemed to be in it for some quick profits. Continue reading here!
Stock Update: IRCTC's shares rose as much as 3 percent to Rs 1,444 per share on the NSE. The company's net profit for the quarter ended March surged 79 percent year-on-year (YoY). Revenue from catering segment fell 20 percent YoY but internet ticketing revenue tripled as compared to the past year. The company's board also declared a dividend of Rs 2.5 per equity share. 
Breaking News: Google announces Rs 75,000-crore fund to drive digitisation in India
Technology giant Google will invest Rs 75,000 crore, or approximately $10 billion, into India over the next 5-7 years through its just-announced India Digitization Fund, Google and Alphabet CEO Sundar Pichai said.
"We'll do this through a mix of equity investments, partnerships, and operational, infrastructure and ecosystem investments," Pichai said.
The investments will focus on four areas important to India's digitization.  First, enabling affordable access and information for every Indian in their own language, whether it's Hindi, Tamil, Punjabi or any other. Second, building new products and services that are deeply relevant to India's unique needs.
Third, empowering businesses as they continue or embark on their digital transformation and fourth, leveraging technology and AI for social good, in areas like health, education, and agriculture, he said.
Rupee Update: The Indian currency ended flat in today's session due to volatile equity markets. The rupee ended at 75.19 against the US dollar as compared to Friday's close of 75.20. Meanwhile, IT stocks traded in the green, with Tech Mahindra and HCL Technologies as the Nifty50 top gainers.
Ruchit Jain of Angel Broking gives out two 'buy' trading calls
We have two 'buy' recommendations, one from the defensive space and other from healthcare sector, said Ruchit Jain from Angel Broking.
He said, "The FMCG space has been showing relative strength in this market, and hence could see some outperformance. Colgate-Palmolive after a consolidation has given signs of resumption from its primary uptrend. One can go long on Colgate-Palmolive from a trading perspective, with stop loss below Rs 1,388 and target of Rs 1,455."
In case of healthcare space, he recommended Metropolis Healthcare. "We have seen many diagnostic stocks with up move and good volumes today. Metropolis is on the same track, and there is a breakout in the price as well. Irrespective of the market movement, we could see some good momentum in Metropolis. Therefore, one can buy it with a stop loss below Rs 1,495 with target price of around Rs 1,670," added Jain.
Global Market Update: European stocks traded higher Monday despite the backdrop of surging coronavirus cases in some parts of the world, and as investors approach earnings season, reported CNBC International.
The pan-European Stoxx 600 climbed 0.7 percent in early deals, with autos adding 2 percent  to lead gains as all sectors and major bourses entered positive territory. DAX and FTSE 100 traded over 1 percent higher each. While, CAC and FTSE MIB were trading 0.81 percent and 0. 47 percent higher respectively.
European markets were tracking their global counterparts higher despite the surge in coronavirus cases in the U.S. and beyond; Florida reported 15,299 new coronavirus cases on Sunday, the highest single day total for any American state since the pandemic began.
Fitch assigns rating to Adani Ports & SEZ's proposed USD Notes:
Fitch Ratings has assigned Adani Ports and Special Economic Zone Limited's (APSEZ, BBB-/Negative) proposed senior unsecured notes of up to $1.25 billion an expected rating of 'BBB-(EXP)' with a Negative Outlook. The proceeds will be used primarily for refinancing the debt of Krishnapatnam Port Company Limited (KPCL) upon the completion of APSEZ's acquisition of the company and for refinancing APSEZ's other debt, including early redemption of part of a US dollar bond due 2024. The final rating is contingent upon the receipt of final documents conforming to information already received, Fitch said.
BSE signs pact with IIT Alumni Council to encourage listing and boost the startup ecosystem
BSE has signed a memorandum of understanding (MoU) with IIT Alumni Council to encourage listing culture for startups and develop a 'high investor depth' startups platform. This alliance between BSE and IIT Alumni Council will ensure entity transparency, governance improvement, market discovery of share price, provide liquidity for PE investors and enable retail participation.
The newly-formed partnership will ensure a complete end to end ecosystem for the proposed social stock exchange and will also look at revitalising the Startup platform by attracting a wide range of VC/PE funds to act as underwriters and market makers (backed by the BSE members in the frontend). The alliance will help reduce listing time, complexity and cost for SMEs and Startups by streamlining, automating and standardising the documentation processes. Besides, category 1 merchant banks will be empaneled to help automate the listing process so as to reduce time and cost of listing on the Startup Platform of the Exchange.
Encouraged by clinical trials for Itolizumab, says Biocon's Shaw
Speaking  to CNBC-TV18, Biocon head Kiran Mazumdar Shaw, said she was very encouraged by the clinical trials for Itolizumab–better known by its brand name ALZUMAb which has received approval from the Indian drug regulator for the treatment of COVID-19.
Shaw said many doctors have started using the drug and more than 150 people have recovered.
"This is a hospital-based treatment, it's an infusion. It costs Rs 7,950 per vial – that's the MRP cost and this is a treatment that has to be delivered in the hospital, it has to be carefully monitored," she said, adding that the total treatment would cost around Rs 35,000. Click here to read more
Life Insurance in times of COVID-19: How to file claims, documents required and other questions answered
During this period, many life insurance companies are accepting claim intimations through email and WhatsApp. One can send claim documents via email to their respective insurers' email address and seek any additional support.
It is advisable to intimate the claim at the earliest in the event of the policyholder's demise. 
To enable faster and smoother claims processing, all documents should be consolidated before applying for a claim. All claims are examined and settled by life insurers on the basis of information present in documents submitted in connection to the claim. It is advisable to provide complete information. Read more here
Stock Update: Shares of Yes Bank declined for the second straight day, falling more than 16 percent on Monday after the bank fixed floor price of its proposed follow-on public offer (FPO) at Rs 12 per share and a cap of Rs 13 per unit.
The stock plunged 16.86 percent to intraday low of Rs 21.20 apiece on the BSE. In the last two sessions, the stock price have plunged more than 20 percent while in 6 months it has declined over 49 percent on the BSE. At 11:10 m, the shares were trading percent lower at Rs 22.50 apiece.
On Friday, the Capital Raising Committee of the Board of Directors of the Bank (CRC), at its meeting held earlier today approved the Floor Price for the Rs 15,000 crore FPO at Rs 12 per equity share with a cap price of Rs 13 per share.
Meanwhile, a Moneycontrol report said that market regulator Securities and Exchange Board of India (Sebi) may look into a large amount of share transaction of the bank under the Securities Lending and Borrowing Mechanism (SLBM).
Market Watch: Yogesh Mehta of Yield Maximisers

"In the IT sector, HCL Technologies after a long consolidation from Rs 160 to Rs 590, today it has come out of that level and now it is quoting above Rs 590 levels substantially. One can initiate long position keeping a stop loss of Rs 578, target would be in the range of Rs 620-622 levels."
"Britannia, a fantastic move and technical breakout is so good that currently it is quoting at near Rs 3,800-3,820 levels. One can initiate long positions; Rs 3,700 is the stop loss and target is in the range of Rs 3,950 first and then Rs 4,200."

"HDFC Life has been on a consistent up move since last one week. It crossed Rs 540 important hurdle and now it is around Rs 590 level. So one can still go long keeping a stop loss of Rs 575 in futures segment and target in the range of Rs 620-625 levels."
Yes Bank stock falls over 16% post FPO announcement

Shares of Yes Bank declined for the second straight day, falling more than 16 percent on Monday after the bank fixed floor price of its proposed follow-on public offer (FPO) at Rs 12 per share and a cap of Rs 13 per unit. The stock plunged 16.86 percent to intraday low of Rs 21.20 apiece on the BSE. In the last two sessions, the stock price has plunged more than 20 percent while in 6 months it has declined over 49 percent on the BSE.
Biocon shares hit 52-week high after DCGI's nod for use of Itolizumab in moderate to severe COVID patients
The share price of Biocon Ltd rallied over 9 percent to hit a 52-week high in the early trade on Monday after the company received Drugs Controller General of India's (DCGI) approval to market Itolizumab injection solution for emergency use in India to treat patients with moderate to severe COVID-19 complications. The stock opened 9.82 percent higher at a 52-week high of Rs 455 per share. The stock has gained more than 50 percent in the last 6 months and over 24 percent in three months.  
Market Watch: Nooresh Merani of nooreshtech.co.in
"First is a buy on Nalco which has given a breakout above Rs 35 – a range which was there for the last couple of months and has seen good volumes on the breakout. So a buy at current levels with a stop loss at Rs 35 and a target at Rs 39."
"The other one is a preemptive buy on Sun Pharmaceutical which is on verge of a breakout for a very long period of time and has given a small breakout yesterday. So, keeping a small stop loss at Rs 488 and a target price of 525."
Avenue Supermarts falls over 6% after COVID disruptions hit Q1FY21 earnings
The share price of D-Mart retail chain operator Avenue Supermarts Ltd plunged over 6 percent in the early trade on Monday after the company reported weak numbers on all fronts for the first quarter of fiscal 2021, impacted by the COVID-19 crisis. The stock fell as much as 6.03 percent to hit its intraday low of Rs 2,182 per share on the BSE. The company's consolidated net profit in Q1FY21 fell 87.59 percent to Rs 40.08 crore from Rs 323.06 crore in the same period last year. Total revenue from operations during the quarter under review declined 33.21 percent to Rs 3,883.18 crore as against Rs 5,814.56 crore, YoY.
Technical view: The Nifty managed to open above the 10,850 level this morning which is a positive indication. We need to ensure we are able to close above these levels too. If the markets are successful in doing that, we should be trading for a target of 11,150 as the next level for the index. The support is at 10,650, says Manish Hathiramani, Index Trader and Technical Analyst, Deen Dayal Investments.
Rupee update | Rupee opened slightly higher against the US dollar.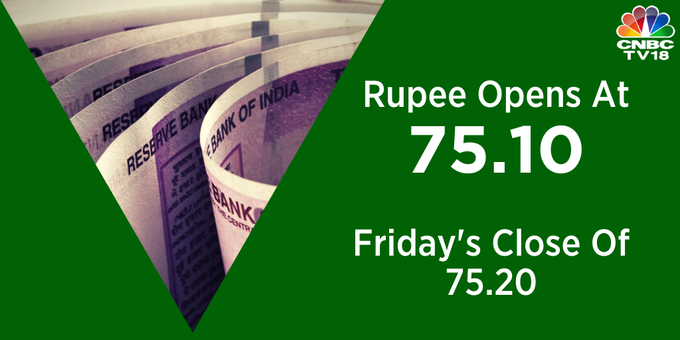 Market Update: 48 Nifty stocks in the green, only two trading in the red- HDFC, HDFC Bank
Biocon receives DCGI nod for use of Itolizumab drug in moderate to severe COVID-19 patients

Biocon Ltd on Saturday announced that its Itolizumab drug has received the Drugs Controller General of India's (DCGI) approval for treating patients with moderate to severe COVID-19 complications. DCGI has approved to market Itolizumab (ALZUMAb) injection 25mg and 5mL solution for emergency use in India for the treatment of cytokine release syndrome (CRS) in moderate to severe ARDS (acute respiratory distress syndrome) patients due to COVID-19, Biocon said in an exchange filing. Itolizumab is the first novel biologic therapy to be approved anywhere in the world for treating patients with moderate to severe COVID-19 complications, it added.
RIL's shares surge over 3%, hit all-time high
Reliance Industries' share price hit an all-time high on Monday after the company received 13th investment from Qualcomm towards Jio Platforms. The American firm will invest Rs 730 crore for 0.15 percent stake in RIL's technology arm. The stock gained as much as 3.24 percent to Rs 1,939 per share on the NSE. The shares remained in-line at 9:40 am, trading 2.85 percent higher to Rs 1,931.50.
Reliance Ind becomes the 1st Indian co to hit mkt cap of Rs 12 lk cr. RIL's market cap rises to Rs 12 lk cr from Rs 11 lk cr in less than a month pic.twitter.com/HurJRKJOx4

— CNBC-TV18 (@CNBCTV18Live) July 13, 2020