Mid May Update: Technicals
4H DGBBTC
DGB was one of the coins that profited the most from bitcoin's last week's consolidation as it rallied from the all time lows of 126 sats all the way up to the local resistance of 195 sats.
The 195 sats zone is an absolute breakout point for DGB – it is a confluence of 2 Fibonacci levels (Fib 236 of March-May high lows) and Fib50 of April-May high lows and MA200. DGB is right now sitting at an important level, on MA50 curve and right below EMA20. These two moving averages are still ordered in a bullish setup, but EMA20 is sloping down to meet MA50 soon.
Breakout point is as we said, the resistance at 196 sats. If this level gets smashed, a run all the way up to 250 sats is on the cards.
Breakdown point is the 145 sats zone, recent bottom from May 16th. Should this level break, a drop to the recent lows of 125 sats would be on the horizon.
Daily DGBBTC
On the daily, DGBBTC is still in the bearish trend as DGB is yet to break out of the descending channel. It needs to close a day candle above the 166 sats zone to be above the upper line of the channel, which would then be a support line, along with the EMA20 that DGB currently hovers around.
Applying Tom DeMark's TD Sequential serves the purpose of identifying a price point where an uptrend or a downtrend exhausts itself and reverses. If we apply this indicator on DGBBTC daily chart, we can see that candle number 13 of TD Buy Countdown just closed which usually indicates a trend reversal. Below is a more detailed explanation of this indicator and a chart of DGBBTC with this indicator overlay. When the 13 count is recorded, it is at that point, a price pause, price pullback, or a reversal is likely.
TD Sequential: Countdown for Long Trades: Once the setup and intersection are satisfied, we count the number of days in which the close is lower than the low 2 days earlier (Close[i] < Low[i − 2]; Index: i ~ Current Bar). The days that satisfy this requirement do not need to be in a row. When the countdown reaches 13, the countdown is completed and we get a buy signal unless one of the following conditions occurs: (a) A new setup is formed simultaneously as the countdown process is taking place; (b) There is a close that exceeds the highest intraday high that occurred during the setup stage.
One thing to bear in mind is the turbulent and erratic nature of bitcoin – a sudden thrust up or slide down is always on the cards which would invalidate this and all other analysis and predictions. In such cases, market is shaken up with most traders exiting altcoins and entering bitcoin positions or seeking shelter in stablecoins, especially in the initial phases of bitcoin pumps and dumps. So it is always a good idea to keep a close eye on bitcoin's behaviour before opening a long or a short on any other coin in the market.
Should this happen, stop by again to check out our updated charts and thoughts.
Trading volumes are not looking good with reported volume being a miserable $1 million and "Real 10" volume being $330k. What is good, though, is the volume overstatement is low, there is only 1.5x discrepancy between the reported and the "Real 10" volume (trading volume on the exchanges that prevent wash trading). This means that DGB's poor liquidity is only slightly inflated which is not the case with the majority of other coins.
Moreover, DGB comparatively has a weak buy support, according to coinmarketbook.cc. Buy support is measuring sum of buy orders at 10% distance from the highest bid price. This way we can eliminate fake buy walls and whale manipulation and see the real interest of the market in a certain coin. DGB currently has meager $330k of buy orders measured with this method, which sets DGB buy support/market cap ratio at 0.30% which is an average figure for the crypto market. Bitcoin and Ethereum have a 0.27% and 0.28% ratios, respectively. This novel metric indicates there are a lot of manipulations, inflated liquidity and fake orders on DGB trading pairs.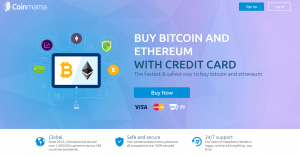 Mid May Update: Fundamentals
To assess fundamental health of a project, we used the FCAS metric. FCAS is a comparative metric whose score is derived from the interactivity between primary project lifecycle fundamentals: User Activity, Developer Behavior, and Market Maturity.
There are a few sub components which provide data to each fundamental:
User Activity is comprised of Project Utilization and Network Activity
Developer Behavior is comprised of Code Changes, Code Improvement and Community Involvement
Market Maturity is comprised of Liquidity and Market Risk. Market Maturity has less than 5% impact on a project's overall FCAS.
FCAS ratings are on a 0-1000 point scale with a corresponding letter grade. Break points are based on standard deviations in the underlying component distributions.
900 – 1000 is marked as S for superb. 750 – 899 is marked as A for attractive. 650 – 749 is marked as B for basic. 500 – 649 is marked as C for caution. And finally, below 500 is marked as fragile. You can read more about it here.
DigiByte has been ranked as the C category – caution with overall 639 points as of May 10th. By far the strongest metric that contributed to this score is user activity that got 776 points, followed by market maturity with 564 and developer activity that had 546 points. This data backed fundamentals valuation model is a good insight into underlying driving forces of a project and as you can see DGB fares bad under the scrutiny of FCAS. Primary reasons for this are low developer activity but also weak market maturity that is a consequence of the lack of listings on bigger exchanges.
Below are some of the most important news
around the project in the last 30 days.
Honeypod & DigiByte have joined in a strategic cooperation to bring a more secure, private, and anonymous internet experience. Honeypod will begin integration of the DigiByte cryptocurrency into the Honeypod infrastructure giving users the ability to be compensated by either HNY or DGB cryptocurrency. Honeypod provides security, data protection, and anonymity while you are online. Honeypod gives your a faster, cleaner, safer, more privacy friendly internet connection while also compensating you while you browse the web through advertisements or running your own VPN exit-node.
There was also a meetup in Amsterdam on 19th April.
DGB shills on Twitter had a fallout with Coinbase CEO Brian Armstrong, unnecessarily tarnishing project's reputation.
Below is our long-term forecast where we cover general market movements and sentiment shifts before delving deeper into the specific predictions for DGB.
DigiByte Intro
If you are not too much into cryptocurrencies, you probably didn't heard about the second tier coins like DigiByte. And that is precisely the reason why DGB, despite their feature-richness and superior tech, will have a hard time surviving the 2019.
DigiByte is widely considered as one of the safest cryptocurrencies out there, in part due to several pieces of crypto technology (like the DigiShield or its 5 mining algorithms) that the project developed and implemented. Its 5 year existence makes it one of the older projects on the market, one that managed to expand to over 200,000 nodes throughout the timeframe. Seemingly focused on the networking aspect at the time, DigiByte keeps moving along the path of achieving wider adoption in the world of crypto.
However, lack of presence on the biggest exchanges like Coinbase and Binance feeds into an already weak brand recognition which is one of the major factors for the development of the trust in a payment currency. Technology alone won't get you there – people need to develop a shared belief that a currency is able to preserve their value for the future. Digibyte is far from that status right now.
How to evaluate fundamentals of a crypto project
We should consider crypto valuations like educated gambling, a 'prediction market' where we are betting on the odds of project and token success. There are some catalysts of success we can identify:
Project success drivers (user traction, strong financial bottomline, good treasury management, network effects/synergies between users and token investors)
Real user traction is the most important driver of success, that is what most of holders call "adoption". If people start using certain crypto project because they find it useful and it makes their life easier, that is a guarantee of success. So far, almost no crypto project can claim to have done so.READ  Matic Network Guide and Review 2019 – 4th Binance Launchpad Token Sale
Strong financial warchest that will enable teams behind the project to develop their visions, incentivize other developers to join them and start using their product is also a crucial aspect of any project. Tied into it is treasury management – especially for the project that had big ICO proceeds. Temptation to squander all those millions into "conferences and events" (read hard-core partying on yachts and luxury hotels) was massive, especially if we consider that majority of token projects founders were no-names and ordinary employees that worked for a paycheck before the ICO fairy-tale happened to them.
Another adoption indicator – network effects, where every additional user of a good or service adds to the value of that product to others. When a network effect is present, the value of a product or service increases according to the number of others using it.
If you can objectively notice that your favorite token project has some of these traits happening for it, be happy – you might have found a winner.
Token success drivers (favourable demand-supply dynamics, programmable incentives on token, aligned incentives with management team and consensus on token as common unit of value creation).
Token success is completely dependent on tokenomics. As defined by infloat.co, tokenomics involves the incentivization of certain stakeholders to ensure particular behavior.
So, tokenomics is essentially an incentive structure designed to ensure that a token has a purpose and utility within its native network. It is the study of how coins/tokens work within the broader ecosystem that can be considered as a sovereign micro-economy. This includes such things like token distribution as well as how they can be used to incentivize positive behaviour in the network.
For example, bitcoin is designed to ensure that bitcoin miners have a reason to mine new bitcoin. Miners validate bitcoin transactions and receive (or create) newly minted bitcoin in the process.
On the other hand, individuals, businesses and other bitcoin users pay a transaction fee for miners to include their transaction in the next block. This ensures that even when all bitcoin have been minted (to the tune of 21 million, which should happen in around 2140), bitcoin miners are still incentivized to keep 'mining' (i.e. validating transactions).
To paraphrase all of the above in the simplest terms: if you, after weeks of research and reading, can't figure out why the project needs to have a token, it probably doesn't.
So why does the token exist then?
– To make the project founders rich.
But there are some people on Twitter, Reddit, Telegram claiming otherwise.
-Yes, they are either: paid to do so by those same founders, they are desperate and delusional bad holders or they are just stroking their own ego with newly learned fancy economic terms and jargon.
Needless to say – stay clear of such projects.
General
Market Movements and Sentiment Shift
The downfall of altcoins that were
mainstream media darlings at the start of the year, DGB among them, can be
attributed, in part, to novice investors getting scared off once the bear
market kicked in with a vengeance. Every resurgence of bitcoin in recent period,
was met with the, for the most part, inability of altcoins to rally with it.
Reason for that can be rookie investors learning from their mistakes, while
smart money that was previously watching from the sidelines has begun to enter
into bitcoin.
These entities weren't about to buy
BTC when it was trading at an all-time high, but they'll take a look now,
having missed the boat the first time around. None of them, it seems, are
interested in altcoins however, despite the fact that many are trading at a 5x
discount. Institutional investors may be cautious, but they're not foolish.
What does the Electroneum (ETN) future look like?
Some altcoins will continue to have some speculative value for the foreseeable future. But just like the now infamous tulips, the hysteria will eventually subside. We are already witnessing the first phases of that slide and even though most of the bag holders react emotionally to articles that criticize their coins, I am just observing the developments on the market. You better start emotionally detaching yourself from your "great sounding" coin because if goes nowhere, ideas are worthless without execution and real users that see value in the project.
Our
DGB Price Prediction for 2019
DGB, as the rest of the market, is
tied at the hip of bitcoin's price action. If bitcoin embarks on another bull
run, DGB can hope for one as well. Since that is very unlikely, don't expect
much to change for DGB price-wise in this year. So 2019 will be a year of
boring sideways action with minor bitcoin ignited jumps and slumps.
In general:
The main currency in cryptocurrency
markets is Bitcoin and given this, altcoins tend to fuel Bitcoin runs and
Bitcoin tends to do the same in return. Given this relationship, Bitcoin price
movements (or lack thereof) tend to effect altcoin prices.
When Bitcoin goes up swiftly, it
will likely:
Suppress or depress altcoins as money flows into Bitcoin;
Or, take altcoins along for the ride
In cases when Bitcoin plunges, it
will likely:
Depress altcoins as money flows into fiat;
Or, cause altcoins  to boom as money flows into them, but this is rarely the case.
When Bitcoin moves sideways, it will
likely:
Cause altcoins to mimic that as traders wait for a clear sign on the direction of the market;
Or, cause altcoins to flourish as traders look for returns in altcoins and try to get favorable trades in terms of BTC pairs.
What does Cardano future look like? See our ADA Price
Prediction 2019

To summarize, Bitcoin is the focal point of the crypto market in many ways, and with BTC trading pairs on every exchange, the gravity of Bitcoin is hard to evade.
DGB-BTC price correlation
Correlation is measured on a scale from -1 to 1. Values above 0 shows the degree to which altcoin is moving in the same direction as BTC prices (either up or down in tandem), and values below 0 shows the degree to which altcoin moves in the opposite direction of BTC prices (so when BTC goes down, altcoin goes up, or vice versa). Values around 0 shows that when BTC price moves, altcoins stays steady, or alternatively that when altcoin moves up or down that the BTC price is staying steady.
DGB has had a correlation coefficient of 0.80+ for the most of its market life, with occasional drop to zero territory (mostly due to the inability to follow bitcoin's sudden jolts upwards) shown on the image below – source.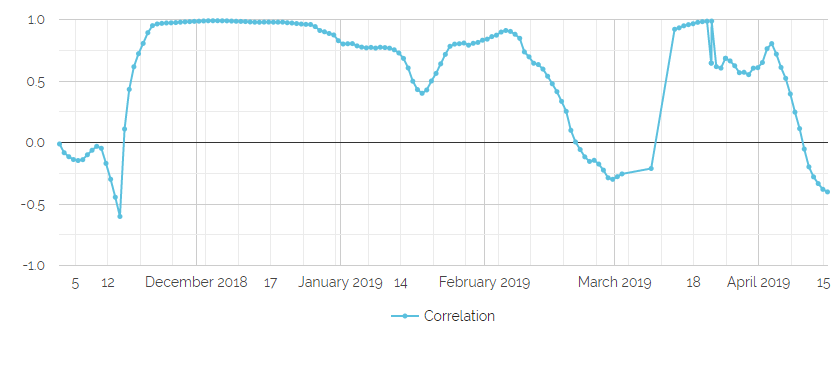 The majority of projects will fail —
some startups are created just to gather funds and disappear, some would not
handle the competition, but most are just ideas that look good on paper, but in
reality, are useless for the market. 
Vitalik Buterin, co-founder of
Ethereum said:
"There are some good ideas, there
are a lot of very bad ideas, and there are a lot of very, very bad ideas, and
quite a few scams as well"
DigiByte Future Outlook
Why will DGB succeed?
Digibyte currently supports 560TPS and only 15 seconds of block time, and 2000TPS by 2020 and exponentially growing 280,000TPS in the near future.
DigiByte is the fastest, longest, most secure and most distributed UTXO blockchain in the world. DigiByte is not just a method of storing and exchanging value, but has the scalability to handle so much more, such as notarizing documents into the blockchain, identity validation, or even having tokens built on top of it without having to worry about a cat-game slowing it down when it reaches peak enthusiasm.
Why will DigiByte fail?
Well, one DGB holder put forward an analysis as to why he thinks DGB lacks recognition and adoption. The gist of it is the lack of business-like handling of the project – it is run more like a hobby according to him.
The analysis is pretty long and is a combination of praise and critique towards the project leadership. After praising the culture of DGB communities, he laments about lack of accountability and seriousness in running the project.
DGB is functioning well enough behind the scenes; it's a functional product but it lacks any kind of adoption and the outlook for the future is grim.
Since Lightning Network is picking up the pace and grows substantially every month, DGB and other payment coins are in a serious existential jeopardy as LN could render them all obsolete.
Can DigiByte reach $1, $10 or $100?
DGB would need to grow almost 77x from the current price level. It would either need to completely obliterate bitcoin and take its aspiring role of reserve global currency or it would need to grow apace with bitcoin. In that case, bitcoin would need to be at $392k per coin.
Reaching $10 or even $100 is completely out of the domain of reality and if you know someone claiming DGB will get to those heights, make sure the claimant gets a good psychiatric treatment.
Is DigiByte dead?
Conclusion
Digibyte should look at the 2019 as the crucial year for them to make a all-in push on all fronts, especially in achieving new partnerships, force more penetration in the merchants markets and generally work more on their marketing efforts. The best technology is not worth much if no one has heard about it.
---
Join Our Telegram Channel

CaptainAltcoin's writers and guest post authors may or may not have a vested interest in any of the mentioned projects and businesses. None of the content on CaptainAltcoin is investment advice nor is it a replacement for advice from a certified financial planner.
The views expressed in this article are those of the author and do not necessarily reflect the official policy or position of CaptainAltcoin.com